Our Products
Chilled Meals
In the chilled meals category, it's rare that anyone brings anything truly exceptional to the table. Thanks to the enterprising people at Enterprise Brands, this is one of those moments. The launch of a longer-lasting range that's ready to revolutionise the ready meals market.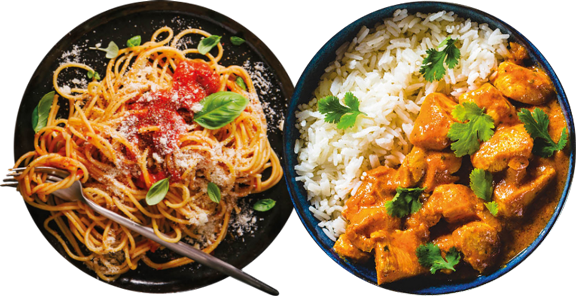 At last. Chilled meals that stay fresh for 16 days.
Well, somebody had to step up to the plate.
Until now, you've been used to ready meals with disappointing sell-by dates and equally unappetising sell-through rates. These short-dated products have left both consumers and retailers feeling short changed, with up to 25% wastage. But not any more.
Our delicious new meals stay freshly chilled for not just 8 days, 10 days, or even 12 days, but a remarkable 16 days. Dramatically reducing wastage while transforming sell-through. First on the shelves in our tasty, game-changing new Bistro Express range are our tempting new Spaghetti Bolognese and Butter Chicken dishes, with Chicken Madras, Chicken Tikka Masala and Sweet and Sour Chicken soon to follow.
Delicious taste. Sustainable production. Longer shelf life. The fresh technology behind our new chilled range.
Our new, long-lasting range is the latest in a long line of innovations brought to you by Enterprise Brands. Every day, we're on a mission to source and distribute delicious quality meals while prioritising the very highest standards of food safety.
We take great pride in the fact that our suppliers prepare our meals in a BRC Grade AA* production facility and also hold IFS higher level certification. While our continuous focus on R & D and sustainable values means that besides helping to reduce the amount of chilled food consumers throw away, we're also helping the planet too.
Take a look. The benefits of our new 16-day chilled meals range go on and on and on.
Our Products
Spaghetti Bolognese
A satisfyingly rich, fork-twirling spaghetti pasta with delicious beef and pork nestling in an irresistible Italian-style ragu.
Our Products
Butter Chicken
This palate-pleasing traditional Indian favourite features succulent chicken pieces immersed in a rich and creamy sauce, complemented by rice.